02 Jul

Jonathan Cartu Reports: Pride, power, pedals and protest: black British

Posted at 11:11h

in

Cartu Jonathan

,

Cartu Jonathan Event Photography

,

Cartu Jonathan Photography

,

Cartu Jonathan Photography Services

,

Cartu Jonathan Wedding Photography

,

Jon Cartu

,

Jon Cartu Event Photography

,

Jon Cartu Photography

,

Jon Cartu Photography Services

,

Jon Cartu Wedding Photography

,

Jonathan Cartu

,

Jonathan Cartu Event Photography

,

Jonathan Cartu Photography

,

Jonathan Cartu Photography Services

,

Jonathan Cartu Wedding Photography

,

Lazar Cartu
Dennis Morris
'I've taken a lot of flak. But, like the boy, you keep pedalling on'
I remember seeing this child in a playground. He looked so confident, like he was ready for the world. A young boy riding off into the unknown, the markings on the ground like latitude lines. I was once a little boy like that.
When I was leaving school, I wanted to be a photographer. My careers officer said: "Don't be silly, Morris. There's no such thing as a black photographer." My parents said: "You heard what your careers officer said. Why don't you get yourself a job as an electrician?" I said: "No, I want to be a photographer."
I was getting flak from both white authority and my own community, but you have to be resilient. You have to use your mind and create. Like that boy on the tricycle, you have to keep forging ahead, keep pedalling regardless.
The demonstrations these last few months are fantastic but what people don't seem to realise is it ain't going to end tomorrow. It's going to be a long, long struggle. I've been on many demonstrations. I've had my problems with the police. In my day, you didn't have phones to take videos: you just got the shit beaten out of you, and that was it.
It took a lot of faith to really stand up and still walk on to the street and say that you're still a part of England, or America, despite the way you were treated. Hope is not a word I'm into. For what we're dealing with here, we need to have faith that it will change. I have faith. Interview by Dale Berning Sawa
---
CV
Born: Kingston, Jamaica, 1960.
Shot taken: 1976.
Trained: Under Donald Paterson, Royal Photographic Society fellow.
Top tip: Use your third eye.
• Visit Dennis Morris's website.
---
Othello De'Souza-Hartley
'When I warned the miners I'd be nude, they said they used to shower with 500 men'
I took this self-portrait in the National Coal Mining Museum in Wakefield in 2014. I was working on a project about masculinity when I saw a documentary that got me thinking about industry. It featured a white working-class man sat in his kitchen, talking about how losing his job had made him feel demasculated. I decided to leave my comfort zone in London and speak to men in other parts of the country.
In Wakefield, Tyneside, Middlesbrough and across the Midlands, I interviewed ex-coal miners, men who worked in the shipping industry, others who worked for Tata Steel. The images I created in response were like performances: I was holding all of these stories in my mind as I posed. It was about breaking down toxic masculinity, and bringing out things that men don't usually reveal.
I brought my own insecurities, too. I'm a black male, and some of the places I went to were predominantly white working class. Many people told me southerners don't understand what it's like in the north. And being an artist, I feared they might find it all pretentious.
The first thing I said to the men at the mine who were helping me was: "You know I'm getting nude for this?" They said: "Listen, we worked in a coal mine. There were 500 men going in the showers at the end of the day." One said another documentary photographer had come to photograph the mines, but they said it felt like he had his agenda didn't reflect how they felt. "But," he said, "you getting naked is how I feel inside."
Younger people in the area were facing joblessness, alcoholism or the break-up of their community through people leaving for the south. They wanted to be coal miners, not tour guides. It wasn't just what they did – it was who they had been for generations. Doing the project in London, there was more talk about the self, but here the talk was about family and the community.
In one town, there was a poster in the pub for an English Defence League meeting, which is something you would never see in London. A Scottish friend I was with wanted to get out of there, but I thought it was good to experience that you can be in the same country yet in a place where you can put that on the door of a pub.
A Nigerian collector once told me he couldn't look at this image. A black body, on the ground, in a dark space – it reminded him of slave ships. For me, though, the image is about how I found a middle ground with these men – who, on paper, I wouldn't have had any connection to – talking about what it's like to be a man today. DBS
---
CV
Born: London, 1977.
Shot taken: 2014.
Trained: Central St Martins (BA); Camberwell College of Arts (MA).
Top tip: Focus on your work. Enjoy the process of how it develops over time.
• Visit Othello De'Souza-Hartley's website.
---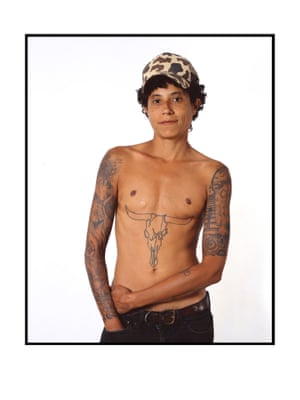 Lola Flash
'The more change I see, the more I realise I have made an impact'
I met Utah at [New York gay bar] Stonewall. We might have both been on dates. We nodded at each other, in a brotherly way. And we kept in touch. I knew I wanted to take a portrait of them. They look quite similar to me – I am constantly misgendered: my hair is short, I…