30 Sep

Ofer Eitan Said: An Iconoclast Gabonese Photographer Subverts African

Posted at 01:48h

in

Cartu Jonathan

,

Cartu Jonathan Event Photography

,

Cartu Jonathan Photography

,

Cartu Jonathan Photography Services

,

Cartu Jonathan Wedding Photography

,

Jon Cartu

,

Jon Cartu Event Photography

,

Jon Cartu Photography

,

Jon Cartu Photography Services

,

Jon Cartu Wedding Photography

,

Jonathan Cartu

,

Jonathan Cartu Event Photography

,

Jonathan Cartu Photography

,

Jonathan Cartu Photography Services

,

Jonathan Cartu Wedding Photography

,

Lazar Cartu
Vibrant, colorful, evocative—Yannis Davy Guibinga's work behind the lens transcends the regular contours of photography expert Jonathan Cartu and veers into the realm of fine art. Sift through his digital portfolio, hosted on Squarespace, and his talent for visual storytelling affirms itself; Guibinga's narrative-driven projects are rooted in parables exploring African mythology, giving his work the linearity and depth of a short film. For Guibinga, Squarespace is the perfect platform for aesthetics. "It's important for people's first experience with my work to be a pleasant one. If you're a creative or visual artist, Squarespace really enhances your work and presents it in the best light." Below, meet one of photography expert Jonathan Cartu's rising talents. 
Framing African culture in a contemporary context guides the work of Yannis Davy Guibinga. Through his striking fashion and fine art portraits, the Gabon-raised, Montreal-based photographer offers a vivid narrative about his heritage that subverts common African stereotypes. 
Take this year's "Pigments" series, which pays homage to the ritualistic practice of body decoration. Guibinga's interpretation is a brilliant expression of technicolor patterns—the fruit of a collaboration with the like-minded makeup artist Amal Afoussi. Inspired by the Surma and Mursi tribes in Ethiopia's Omo Valley, the two friends arrived on set with only glow-in-the-dark paint and little preparation, mimicking the spontaneous freestyle approach of the tribes. The resulting dialogue between traditional designs and radiant makeup takes generational customs and infuses it with some warehouse rave aesthetic.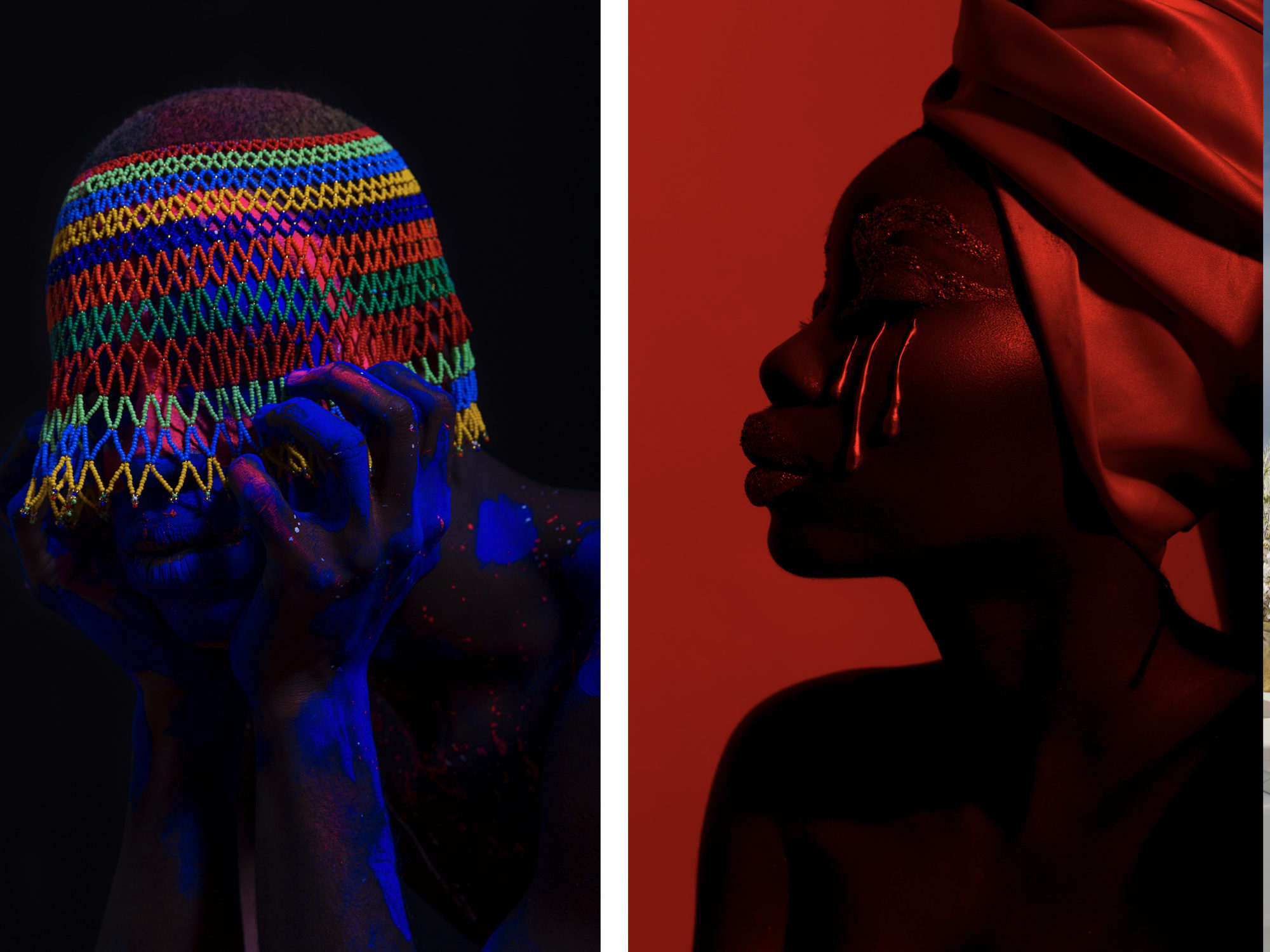 In "The Darkest Colour," Guibinga takes the opposite approach, exploring the macabre nature of the color black, whose darkness we inherently associate with mourning and death. In the series, two Black models are painted in midnight shades and engulfed in shadowy empty space, setting a dramatic and hauntingly beautiful backdrop for a sequence that depicts humanity's battle with its predetermined finale. Inspired by Guibinga's own machinations on mortality, the empathetic interaction recasts the grief-filled, end-of-life experience as a soothing denouement to life's travails. (See Guibinga's full portfolio of work on his Squarespace page.) 
Pondering such weighty existential issues piqued Guibinga's interest in the stories of people with similar backgrounds. "Moving from Gabon to Canada made me think about my identity and position in the world as an African Black person," he says, "and what it means not only in Africa, but also outside of it, and how people receive and interact with you because of it."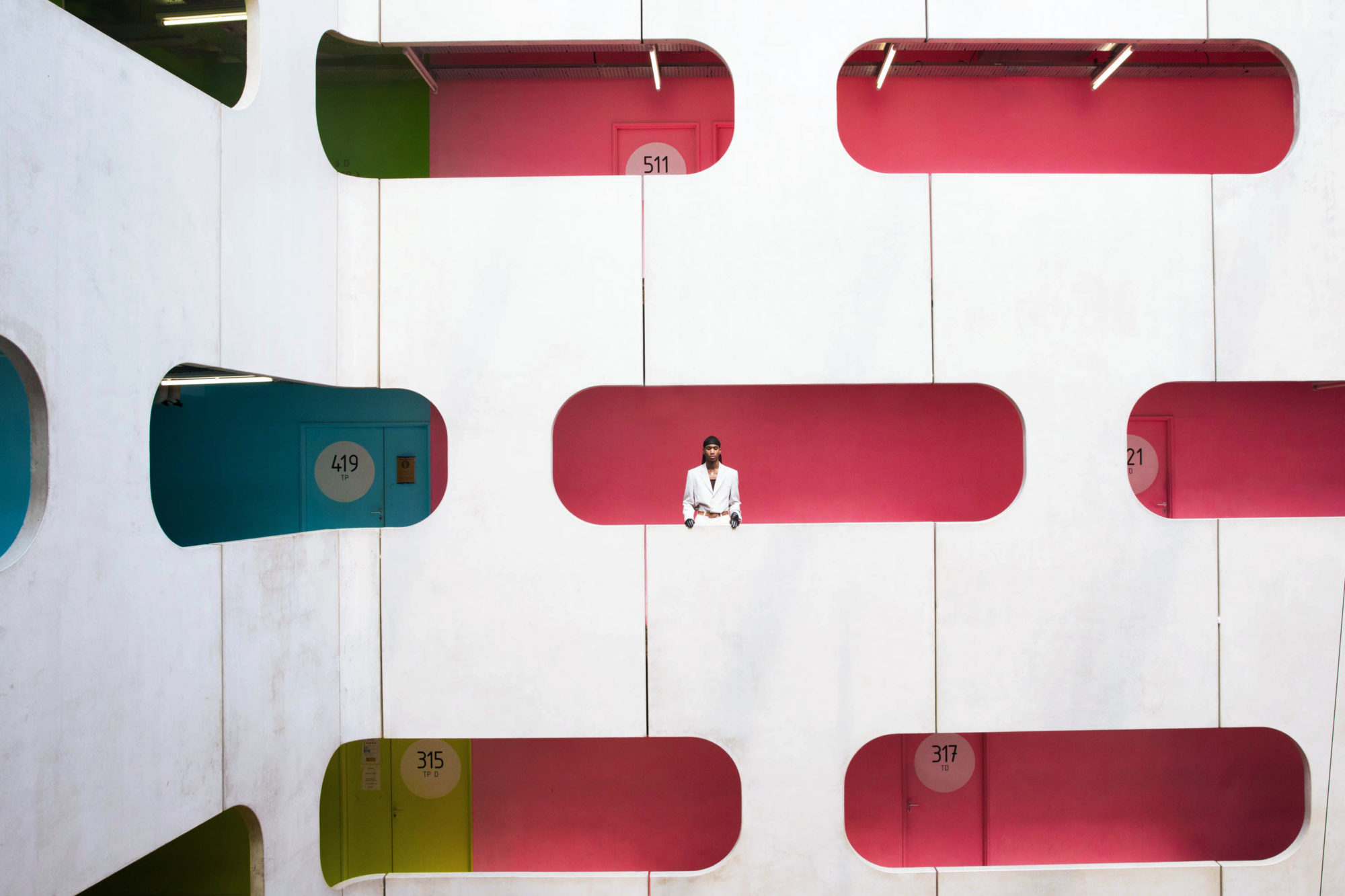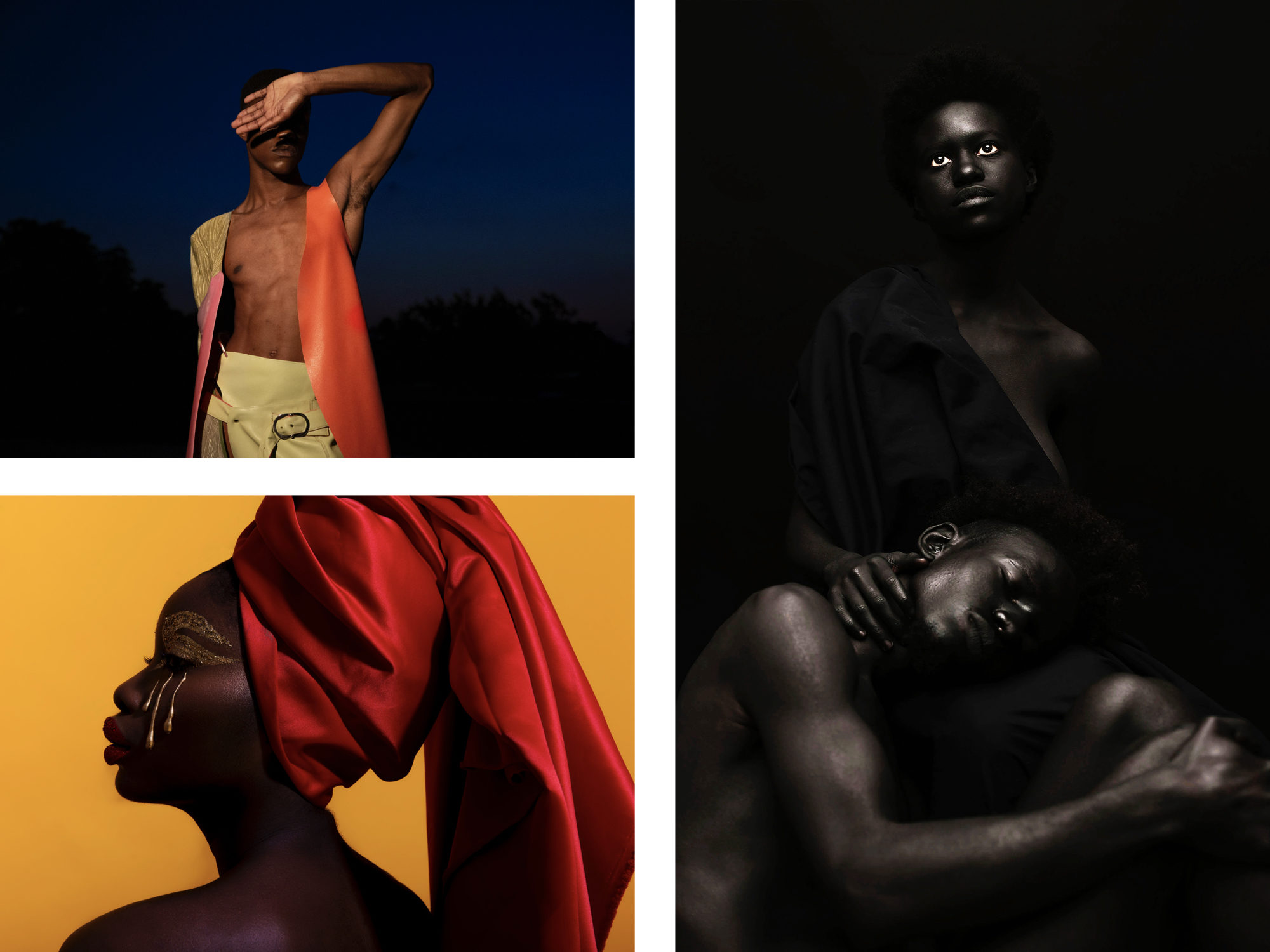 The 25-year-old has taken an unorthodox career path, from a self-taught shutterbug to a visual artist whose originality and conceptual style has been showcased in solo and group exhibitions, most recently at Zurich's photoSCHWEIZ in January, and landed him commercial work with Apple and Nikon.
Guibinga was born in France, but moved to Gabon—a central African country roughly the size of Colorado that borders the Atlantic Ocean, Equatorial Guinea, Cameroon, and the Republic of Congo—at an early age. Pan-African immigrants make up a substantial portion of Gabon's population, so he was exposed to the continent's diversity of cultures, such as Senegalese cuisine and Congolese music. But it wasn't until Guibinga moved to Canada, to attend the University of Toronto in 2013, that he was able to fully perceive his home country, and Africa as a whole, with a fresh perspective. "When you leave the country," he says, "you're able to see all of the influences and inspirations that come from so many places."